Were cats used in war?
Were cats used in war?

If the pull of the outside world is strong, there is also a pull towards the human. The cat may disappear on its own errands, but sooner or later, it returns once again for a little while, to greet us with its own type of love.
Lloyd Alexander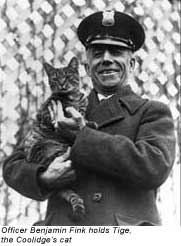 Cat soldiers: Although natural hunters with strong defensive instincts, cats are generally peaceful animals and usually of no use to humans in warfare. Unlike dogs and horses, they are difficult to train, monumentally disobedient, and remarkably independent. Some claim the U.S. Military tried to use cats during the Vietnam War, but the project was a disaster because the cats would either become distracted or slip into the jungle any chance they got (many claim the entire story is untrue). The Belgium Military tried using cats to deliver letters during war, but this, too, was a dismal failure. Cats are just not concerned with human affairs; lest of all their wars. But some cats have made names for themselves during war and became memorialized for their heroism and sacrifice.
Waving the White Flag: Cats were so revered in ancient Egypt, that if any were captured by Egyptian enemies whole armies were sent to rescue them. An Egyptian general once even surrendered his army to protect cats on a battlefield. The event occurred during a war with Persia. The Egyptians had been dominating the war when a Persian general came up with the idea of capturing cats and releasing them onto the battlefield. When the armies took the field and the Egyptian General saw the battlefield crowded with cats, he surrendered a whole city rather than harm the cats.
By land and by sea: The largest role cats have played in war has been onboard ship, where cats cleared ships of rodents. Sometimes, cats do serve roles other than rat-catchers. They sometimes work as therapy animals, providing sailors with a sense of security and calm.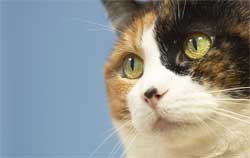 The most famous cat of modern warfare was Simon, who sailed on the HMS Amethyst, a British Naval Vessel. Simon was smuggled along the ship by a young sailor and hidden in his living quarters. Eventually, the captain and crew became aware of the cat and made it the ship's unofficial mascot. For his part, Simon worked hard to clear the ship of its rodent population. He was known to lay his kills at the captain's feet.
In April of 1949, the ship had to sail up the Yangtze River in China to help another British vessel. On the way up the river, however, the Communists bombarded the ship and it was forced ashore. Simon was seriously wounded during the battle, with shrapnel in his legs and back. Remarkably, Simon was able to pull through the event, and eventually recovered. After assuming his old duties as rat-catcher, Simon added another job to his resume. He began visiting the wounded soldiers and did his best to cheer them up.
Eventually the ship made it out of the Yangtse River and into open waters. The Yangtze Incident became well known, and Simon became quite famous. He was awarded the Dickens Award – the animal award for bravery, marking the first and only time the award was presented to a cat.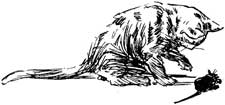 Unsinkable Sam: Another well-known cat in modern warfare was Oscar,
also known as Unsinkable Sam. Oscar was on three different ships that were all attacked and sunk, but remarkably
Oscar survived each tragedy. The Bismarck, Cossack and Ark Royal were all torpedoed and sunk during World War II. Each time Oscar went down with the ship, but was rescued and
went on to serve another day.
Another cat, named Andrew, was the mascot of the Allied Forces Mascot Club. Andrew's particular contribution was that he had a sort of sixth sense and could tell when a bomb was going to strike nearby. When Andrew went for cover, everyone around him knew to duck.
Many other cats served as mascots for different fighting forces. They helped both home and abroad, their calm nature soothing people during obviously stressful times.
15 Animals That Went To War
Over 16 million animals served in the First World War. They were used for transport, communication and companionship.
In 1914, both sides had large cavalry forces. Horse and camel-mounted troops were used in the desert campaigns throughout the war, but on the Western Front, new weapons like the machine gun made cavalry charges increasingly difficult.
However, animals remained a crucial part of the war effort. Horses, donkeys, mules and camels carried food, water, ammunition and medical supplies to men at the front, and dogs and pigeons carried messages. Canaries were used to detect poisonous gas, and cats and dogs were trained to hunt rats in the trenches.
Animals were not only used for work. Dogs, cats, and more unusual animals including monkeys, bears and lions, were kept as pets and mascots to raise morale and provide comfort amidst the hardships of war.
© IWM Q 22887
1. Naval Mascot
Togo was the cat mascot of the battleship HMS Dreadnought.
© IWM Q 12039
2. No. 32 Squadron's fox cub mascot
This fox cub was the mascot of No.32 Squadron. The cub is pictured at Humieres Aerodrome, St Pol, France in May 1918. It looks as if the cub would like to take a flight in this bi-plane fighter.
© IWM Q 54973
3. Carrying the wounded
Camels carry wounded men to safety on the North West Frontier of India in 1917. Camels were also used in the Sinai and Palestine campaigns. Their ability to carry heavy loads and go without water made them an ideal mode of transport in hot climates.
© IWM Q 53509
4. Lining up for inspection
French Red Cross dogs line up for inspection on the Western Front, 1914. These specially trained dogs wore harnesses containing medical equipment, which they delivered to injured soldiers on the battlefield.
© IWM Q 50651
5. Horses wearing gas masks on the Western Front
German transport driver and horses wearing gas masks on the Western Front, 1917.
© IWM Q 2483
6. Mascot on a captured German trench mortar
The monkey mascot of the Third Army Trench Mortar School sits on a captured German trench mortar, 20 May 1917.
© IWM Q 32505
7. Landing mules at Salonika
Italians landing mules at Salonika in October, 1916.
© IWM Q 8463
8. With the regimental cat in a trench
A gunner of the York and Lancaster Regiment with the regimental cat in a trench near Cambrin, France, 6 February 1918.
© IWM Q 55233
9. Carrier pigeons in their travelling basket
French troops with two carrier pigeons strapped in their travelling basket.
© IWM Q 50671
10. Laying telephone wires
A German war dog, fitted with apparatus for laying telephone wires, walking across muddy ground, 1917.
© IWM Q 1619
11. Animal welfare on the Western Front
British troops scraping mud from a mule near Bernafay Wood on the Western Front, 1916. British military authorities tried to ensure that animal handlers cared for their animals properly.
© IWM Q 48439
12. Carrier pigeons during a gas drill
German soldiers wearing respirators as they place carrier pigeons into a gas-proof chamber, presumably during an anti-gas drill.
© IWM (Q 12578)
13. Proving camels are tame creatures
An Australian demonstrating the docility of his camel by putting his wrist in its mouth, Egypt, 17 September 1917.
© IWM Q 10960
14. Messenger dog on the Western Front
A dog handler of the Royal Engineers (Signals) reads a message brought to him by a messenger dog, France, 19 May 1918.
© IWM Q 5717
15. A pack horse during the Battle of Pilckem Ridge
A pack horse with a gas mask is loaded up with equipment during the Battle of Pilckem Ridge, Belgium, 31 July 1917.
Watch on
Learn more about seven of the most important animals that accompanied men and women at war over the past 100 years.
View video transcript
This is Jet, an Alsatian trained as a search and rescue dog during the Second World War. He and his handler recovered 150 people from the debris of the air raids. On one occasion Jet located a woman buried in a bombed-out hotel and refused to move for 12 hours while rescuers tried to reach her. Jet was awarded the Dickin Medal in January 1945.
Throughout history, animals have accompanied men and women into combat. Over 16 million animals served in the First World War. As warfare changed, the way that animals assisted in wars changed too. From elephants used to build bridges, to dogs that can locate explosives, we're taking a look at the vital role that 7 of our animal comrades have played over the past 100 years.
When the First World War broke out in 1914, both sides had large cavalry forces and, as in previous wars, expected them to play an important part in the fighting. However, while Horse and Camel-mounted troops were vital in open desert fronts, the western front was a different story. Trench warfare and muddy conditions made cavalry virtually useless. Nonetheless, the roles of horses continued to be essential.
Millions of horses were used by all the combatant nations in the first world war. They transported men, supplies and equipment, and pulled vehicles and guns. Horse-drawn ambulances were part of a vast network of medical services set up to treat the wounded. Even throughout the Second World War, horses and donkeys were still the backbones of many armies. The seemingly invincible German army, whose blitzkrieg swept across Europe in 1940, was primarily horse drawn.
An unlikely war hero, the simple pigeon played a hugely important role in the First and Second World Wars. A crucial task of animals was carrying messages. So vital were carrier pigeons that during the First World War anyone caught 'killing, wounding or molesting' a pigeon could be imprisoned or fined.
Gustav was one of the RAF's messenger pigeons during the Second World War and one of six birds given to news correspondent Montagu Taylor ahead of D-Day. On the 6 June 1944 Gustav carried back the first news from the D-Day landings in Normandy. He flew more than 150 miles – from the northern coast of France to his loft near Portsmouth – in just over five hours to deliver this message. Gustav was awarded the Dickin Medal in September 1944.
In desert conditions, camels played a vital role. They could be fitted with gear to transport casualties to aid posts or field hospitals. Camels were also used in the Sinai and Palestine campaigns. Their ability to carry heavy loads and go without water made them an ideal mode of transport in hot climates. Here, an Australian soldier demonstrates how tame his camel is by putting his wrist in its mouth, in Egypt in 1917.
Horses, mules, donkeys and oxen were used for heavy labour throughout the First and Second World Wars. They would be used in constructing roads and railways, or to carry heavy loads across difficult terrain. Mules were particularly adept at navigating the rocky landscape that was a feature of the Italian campaign during the Second World War.
Animal welfare was taken very seriously. Here we see some British troops scraping mud from a mule on the Western Front in 1916.
While donkeys, horses, mules and oxen were at work in Europe, in the Far East, the skill and strength of the elephant was particularly useful. Elephants were used for transportation, heavy lifting and building work. Even elephants living in Europe got involved with the war effort. Kiri and Manny were circus elephants living in Hamburg in Germany. During the Second World War, this pair were transferred to reconstruction work by local authorities, to help clear the wreckage from Allied bombing raids. Here we see the two elephants clearing up a suburb – the news reporter tells us that for this strenuous job their reward is extra fodder.
Animals were not only used for work. Many animals were kept as pets and mascots to raise morale and provide comfort amidst the hardships of war. As well as dogs and cats, mascots came in all shapes and sizes, including monkeys, bears, pigs, lions and foxes.
Wojtek was the pet mascot of a Polish Company during the Second World War. The Syrian brown bear was adopted as a cub by the troops as they passed through Iran on their way to the Middle East. Wojtek, meaning 'little one', eventually grew to over six feet tall. But he was extremely comfortable in human company, often play-fighting with the men. In 1943, the unit were posted to Italy and Wojtek was enlisted so that he could accompany them — he was even given the rank of Private. During the fierce fighting, Wojtek helped keep the front-line troops supplied by carrying heavy shells and ammunition. After the war, Wojtek travelled with the unit to Scotland, where he eventually found a home at Edinburgh Zoo.
But perhaps the most versatile animal worker throughout the past 100 years is that trusty companion to humans: the dog. As well as sending messages and navigating the battlefield, dogs, with their sensitive hearing and sense of smell, are particularly suited for detection duties. During the First World War, search and rescue dogs would venture out into no man's land to locate wounded men. They carried medical supplies and could lead stretcher parties to wounded, stranded soldiers.
On the home front during the Second World War, they performed a similar task, helping to locate people trapped under debris following the air raids.
Judy was adopted as a mascot by HMS Grasshopper during the Second World War. When the ship was torpedoed, Judy and the crew were captured by the Japanese and held as prisoners of war. Leading Aircraftsman, Frank Williams, shared his rations with her throughout their imprisonment. Williams even managed, in an attempt to safeguard her life, to have Judy registered as a POW. Judy was extremely protective – she would bark to distract the guards if they beat the prisoners, and often left the camp to bring back food. The crew were liberated in 1945. Judy was awarded the Dickin Medal the following year for 'magnificent courage and endurance and also for saving many lives through her intelligence and watchfulness'.
A dogs' loyalty, courage, heightened senses and ability to be trained are attributes that are still harnessed by the military to this day. Throughout the twentieth century dogs were used to locate mines and concealed explosive devices. In this photograph, a military working dog completes a drill in Camp Bastion in Afghanistan in August 2012.
As both companions and workers, animals have played an integral part in conflicts across the world. Though their roles have changed over the past 100 years, our animal comrades will always have a part to play on the battlefield.
Thanks for watching – don't forgot to like and subscribe to IWM's YouTube channel for more videos like this and much more. There were loads of animals that we didn't have time to cover in this episode – if you have a favourite, tell us the story in the comments below.